THE NODINES

The Nodines is an interactive experience for children and adults performed by a real family of dancers. The audience sit in a large circle as two parents and their child establish a simple narrative about physical invention and imagination. The performers build a comfortable link to the audience and invite them into the circle to play freely with images and moves from the show.
With live music by Jamie McCarthy, Lighting by Gareth Green and Design by Florence Hendriks.
Choreographed by Simonetta Alessandri, Rick Nodine and Stella Nodine.
Produced by Lia Prentaki
The Nodines have toured Scotland, England and Germany in 2015/16.
Made with support from The Place and Arts Council England
TWO HALVES and a CROSSFADE
Commissioned by MAP dance company for their 2014 Tour
Touring show, first performed at The Place 2013
In 1987 Rick was 17 and the Grateful Dead had already been on tour for more than 20 years. Rick should have been a fan of hip hop, glam rock, new wave or post punk, but it was those hippie dinosaurs that made him dance.
Dead Gig was one of four works selected for The Finals of The Place Prize at The Place in April 2013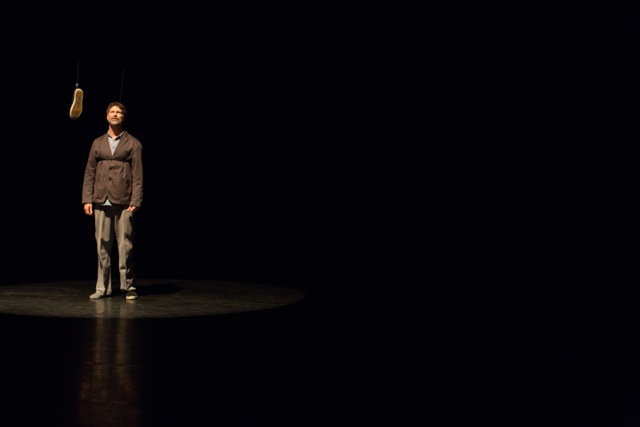 Choreography: Rick Nodine/Performer: RickNodine/ Devising: Rick Nodine and Jamie McCarthy/ Lighting Design: Gareth Green/ Costume Design: Eleanor Sikorski/ Music Assembly and Treatment: Jamie McCarthy/ Music: Grateful Dead/ Photos: Benedict Johnson
INNER ORBIT
Commissioned by London Contemporary Dance School for the 2012 Graduating class.
Photos: Hugo Glendinning
FIGURE/GROUND
Commissioned by Edge for their 2010 Tour
Premiered at The Place April 2009 as Part of Spring Loaded
Directed by Rick Nodine
Performed and Devised by Bryony Perkins, Gabriele Reuter, Rohanna Eade and Charlie Ashwell
Created with the support of The Place Choreodrome 2009 and LCDS
Commissioned by Edge for their 2007 UK and International tour.
Premiered at The Place Theatre 2007
Performed at The Place April 2009 as Part of Spring Loaded
Come to Mamma is a duet featuring two raucously physical, vocal women who weave a movement poem of wild noise, quiet song and leftfield humour.
Directed by Rick Nodine
Performed and Devised by Bryony Perkins and Gabriele Reuter
Text and Lyrics by Bob Dylan and Rick Nodine
Created with the support of The Place Choreodrome 2007 and LCDS
Premiered at Greenwich Dance in 2006
Created with support from Dance Northwest and Greenwich dance
Directed by Rick Nodine with Design by Melly Still
Devised and Performed by Donattela Cabras, Seke Chimutengwende, Jane Leaney and Rick Nodine
OTHER COMMISSIONS
OVER and OVER
Devon Youth Dance - 2012
PART TWELVE
Coventry University 2010
COUNTING EIGHTS
Shift Youth Dance Company 2008